A strong team – the new generation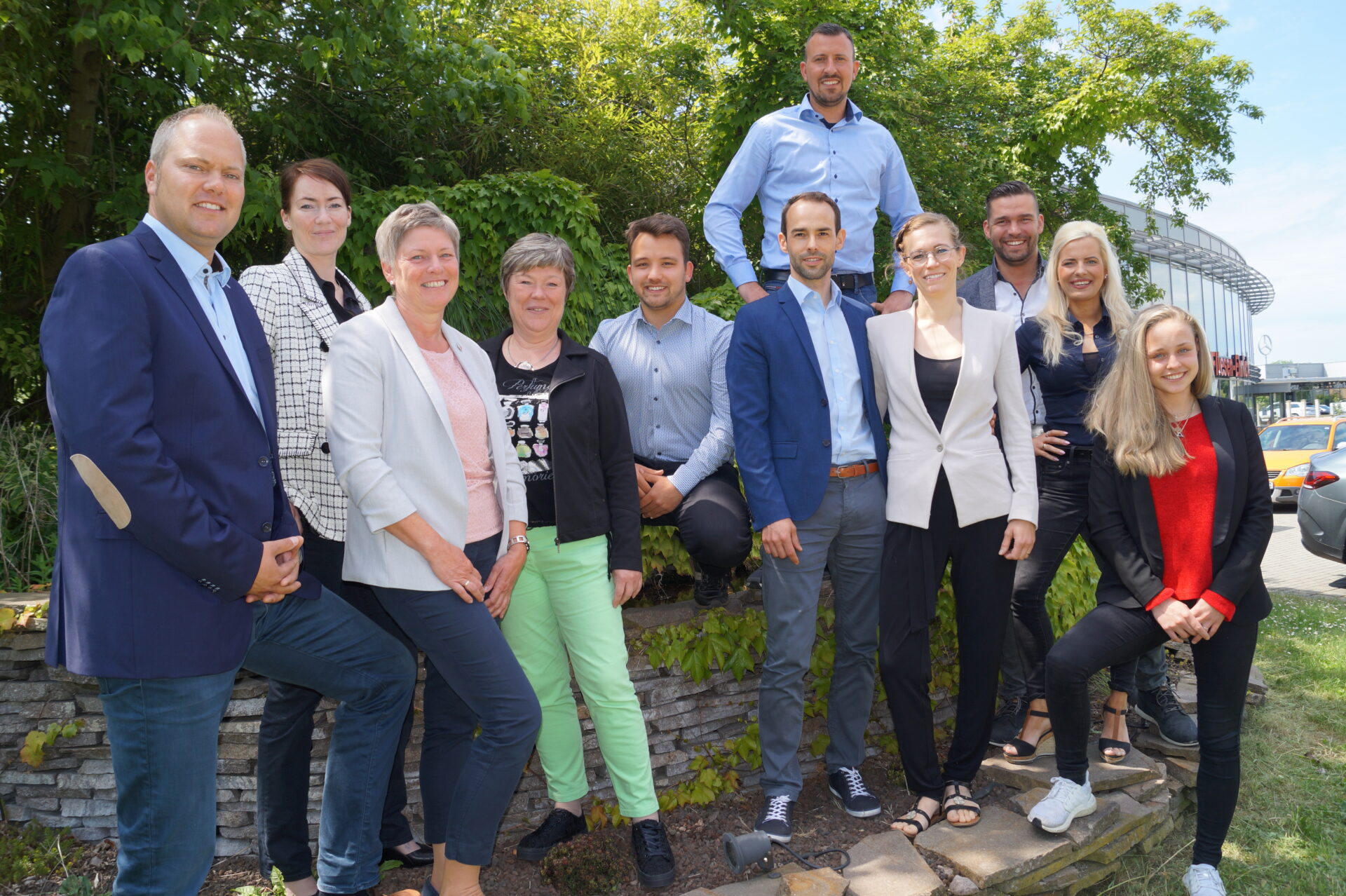 30 years ago, the Cooperation Team4 was founded, an East German association of tile wholesalers and retailers. Today, seven regional family businesses with more than 40 branches belong to this successful cooperation. Many of them are facing a generational change. Hannelore Schuster
So, the topic of company succession was recently the focus of one of the monthly meetings. "We have been dealing with this topic for more than three years," emphasises Thomas Ehrlich, host of this meeting. Above all, he says, it is about continuously continuing and expanding the close and trusting cooperation that has welded everyone together over the decades. "The special family spirit, this friendly connection has grown over the decades and can already be recognised in the younger generation."
In Fliesen-Ehrlich GmbH, to which Fliesen-Fischer GmbH belongs, a family succession is planned for the next few years. Niklas Ehrlich, the son of managing director Thomas Ehrlich and Manuela Ehrlich, has been working in the company for six years, initially while studying. This means he is already quite well prepared for his future tasks. After successfully completing his bachelor's degree, he will finish his master's degree this year. The company succession will then take place step by step without any time pressure.
The situation is different at Fliesenzentrum GmbH Erfurt. There, the family succession has already been completed. Since the beginning of the year, the couple Susann and Robert Schulze have been at the helm of the company, after the two managing directors Andreas Schulze and Ulrich Sell withdrew from the company. Susann and Robert Schulze have been working for the company in various areas for over 16 years. The best prerequisites, therefore, to ensure a seamless transition.
There was also a change in management at Gramer GmbH at the beginning of the year. The siblings Simone and Steffen Gramer took over the family succession when their parents Petra and Gerd Gramer retired. Again, not an abrupt change, both have been with the company for more than ten years.
The family succession at Kerana Keramik- und Natursteinhandel GmbH has already been completed for four years. In 2018, Steffi Böldicke, née Nolting, and her husband Sören Böldicke took over the management from Siegfried and Sylvia Nolting. Steffi Böldicke has been with the company since 2009 and Sören Böldicke since 2015.
Fliesen Thomas GmbH had already been thinking about succession for 10 years. With their son André Thomas, the issue is now closed. He has been working in the company for ten years in various functions. As a trained businessman, he has been responsible for the operational business as a partner and managing director since 2019.
Jürgen and Claudia Thomas are responsible for human resources and the strategic development of Fliesen Thomas.
A family succession is also planned at Fliesenparadies Glaeske & Sefzig Handels GmbH within the next few years. The managing directors Oliver Glaeske and Mario Sefzig want to prepare Oliver Glaeske's daughter, Alexandra Glaeske, for this step by step. Since successfully completing her bachelor's degree in economics, the 23-year-old has been fully employed in the company for one and a half years. As a further qualification, she very successfully completed the MVB training programme in 2022 and the subsequent IHK certification.
The corporate structure of Lehmann GmbH Fachhandel changed in 2020. The two sisters Dr Petra Lehmann and Dorit Lehmann have taken over the shares of their brother Steffen Lehmann. After a great deal of personal commitment during the company's formative years, Steffen Lehmann has turned to another branch of the business within the family.
The family succession is still in development. The eldest son Ernst Lehmann (23 years old) is currently completing a commercial apprenticeship in Dresden, after having fundamentally learned the basics of structural engineering in an apprenticeship as a bricklayer.
All partners of Cooperation Team4 are accompanying this process just as they do all other company successions.
Facts & Figures
The Cooperation Team4 consists of tile wholesalers and retailers with more than 40 branches spread over the entire area of Saxony, Thuringia, Brandenburg, Berlin, and northern Bavaria:
Fliesen Ehrlich GmbH und Fliesen Fischer GmbH
Fliesenzentrum GmbH Erfurt
Gramer GmbH
Kerana Keramik- und Natursteinhandel GmbH
Fliesen Lehmann GmbH Fachhandel
Fliesen Thomas GmbH
Fliesenparadies Glaeske & Sefzig Handels GmbH
The Cooperation's turnover has more than tripled since 2001 (46 million euros).
Through this network, the partners of Cooperation Team4 have short-term access to a stock of over 50,000 pallets.
An internal exchange of goods, currently three times a week, ensures delivery from the various storage locations. This means that most of the tiles shown can be delivered within a week or an order for larger quantities can be procured at short notice.
With two of their own natural stone production facilities and the most modern cutting equipment, they can react flexibly to their customers' wishes.
The members of the Cooperation have common price lists, more than 90 percent of the same suppliers as well as own brands in the fields of ceramics, floor coverings and construction chemicals.
The Team4 coordination office is based at the Gramer company in Zwethau near Torgau. Seven employees take care of all matters concerning Cooperation Team4. This includes maintaining close contacts with the industry, price and condition controls, data exchange and statistical evaluation as well as the coordination of the individual working groups.
Monthly meetings of the cooperation partners ensure close and trusting cooperation and thus very fast decision-making processes.
Written by Hannelore Schuster for Fliesen + Platten
Publication: 22.09.2022, Issue 10